In 1976, a scene from the movie Network piqued my interest in the toxic nature of our worklife, setting into play profound consequences on my life's journey. The movie was about the dehumanizing world of work at a television station and one anchorman's struggle to survive the daily assaults on his and the audience's moral character. One day while on the air, the anchor man snapped, unable to continue with the great farce of his life. Ad-libbing the real news about the deception portrayed to the television audience, he aroused thousands of couch potatoes out of their stupor, inviting them to go over to their windows to declare, "I'm mad as hell, and I'm not going to take it any more!" It was an impressive scene, first one person responding, then another and another, the camera slowly pulling back to show an entire apartment building and then a whole city of people bellowing their declarations of independence out their windows.
Something woke up in me as I watched this scene. Seeing this small but significant act of individual and collective heroism stirred within me a feeling of vicarious power to break out of my own imprisonment—not just about work, but with life in general. I was well acquainted with villainy and betrayal, waiting for some hero to rescue me from my woes. In my mind I was a bonafide victim: a survivor of childhood abuse, the loss of my father at the age of eight, a very difficult marriage and divorce, then struggling as a single parent with no education in a dead-end job. Yet, the white knight never came. Longing for the good life, I read the want ads and dreamed on—of college, opportunity, recognition, financial success, and, most of all, a lighter load to carry.
Shortly after seeing this movie, I went to my own window and declared, "I'm not going to take this any more!" I made a prayerful commitment to do the work if God would open the doors. I stepped onto the path leading me away from victimism.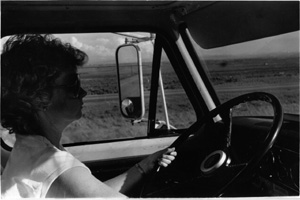 Upon graduation, I packed all I owned in a Ryder truck and moved from North Carolina to Provo, Utah, to attend Brigham Young University, graduating with a Master's degree in Organizational Behavior. At last, against overwhelming odds, I achieved my dream of what I perceived to be success: landing a prestigious, high-paying job through which I could express my creativity and also help improve the quality of people's lives at work.